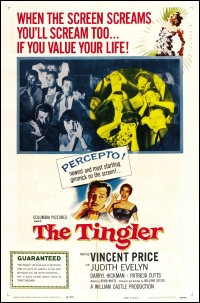 Tingler director William Castle was one of the sharpest showmen of the 1950s, coming up with gimmick after gimmick to attract audiences to his movies — and compete with the new medium of television.


You can buy Inventing the Movies in handy paperback or digital form. The paperback is available from Amazon.com, CreateSpace, and Lulu, and the digital/e-book/PDF version can be found only at Lulu.

You can also order it from your neighborhood bookstore, using the book's ISBN number (1438209991) or EAN-13 number (9781438209999).

If you're still not persuaded, the front cover is here (in large JPEG form) and the back cover is here (also in large JPEG form.)

If you do decide to buy a copy ... thanks!