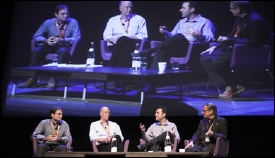 Moderating a panel on the future of movie exhibition at the 2006 Digimart conference in Montreal.


I'm doing lots of speaking in 2008 and early 2009 to promote the release of Inventing the Movies, at places like the Boston Public Library, the Museum of Science in Boston, Netflix, Google, Disney, the Hillside Club, and the University of Southern California. Most events are public, free (or at least cheap), and listed on my page at Booktour.com.

The talk I've put together offers a whirlwind overview of the role that new technologies have played in Hollywood's evolution, accompanied by lots of photos and movie clips. It's very interactive, and designed to hold the interest of casual movie fans, techies, creatives, and innovators of any stripe. The "take-away," as they say, is a collection of insights into the challenges of introducing new ideas to an established business or art form — and some strategies for improving your chances of success.

The Audio & Video page includes some audio recordings from past talks I've given and panels I've moderated. Contact me if you'd like to invite me to speak to your group or company.