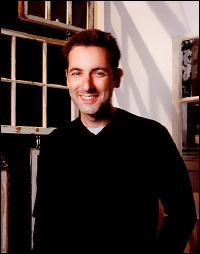 About as clean-shaven as I get... this photo was taken at approximately 9:17 AM.


Scott Kirsner is a journalist who writes about innovation, with a special focus on the ways that new technologies are changing the entertainment industry.

He writes regularly for Variety and The Boston Globe, and has been a contributing writer for Fast Company, BusinessWeek, and Wired. He edits the blog CinemaTech (est. 2005), and is the author of The Future of Web Video, one of the first books about the business and creative possibilities of online video, originally published in November 2006 and updated in March 2007. Scott's writing has also appeared in the New York Times, The Hollywood Reporter, Salon, the San Jose Mercury News, and Newsweek, among other publications.

Scott is a frequent moderator, speaker, and event host, and is also one of the founders of the annual Nantucket Conference on Entrepreneurship and Innovation and The Conversation: The Future of Cinema, Games & Online Video, a new gathering taking place at the Pacific Film Archive. Scott has participated in panels at the Sundance Film Festival, the South by Southwest Film Festival, the Toronto International Film Festival, the Los Angeles Film Festival, Silverdocs, Video on the Net, the Harvard Business School Entertainment and Media Conference, the NAB Futures Summit, and the IFP Filmmaker Conference.

Scott is a graduate of Boston University's College of Communications and the New World School of the Arts, in Miami. The intrepid may discover even more about him here. Scott can be reached at sk@scottkirsner.com.